We asked Ian Knowlson from Selling Success to give his thoughts on KPMG HR report.
In a recent survey by KPMG of more than 400 senior executives titled Rethinking Human Resources in a Changing World a number of key questions were raised about the effectiveness of HR to rise to the challenge posed by the  "War-for-Talent".
Interestingly the survey found that about eight in ten (81 per cent) of respondents say that putting in place
 the most effective talent management strategy will be
 key to business competitive success. Given the global demographic issues in established economies of an aging population and a declining birth rate it is easy to see why.
Sadly for the HR profession of the 400+ senior executives "only 17 per cent of respondents said HR does a good job of demonstrating its value to the business, and even fewer — 15 per cent – viewed HR as providing insightful and predictive workforce analytics."
The most interesting aspect of the report however is it identifies the three 'core challenges' that HR Executives are focusing on:
Balancing the global and the local – managing, hiring and identifying talent globally while retaining important local insights
Managing a flexible and virtual workforce – but not at the cost of loyalty and career development;
Retaining the best talent – maintaining employee engagement in the face of a less committed, more flexible workforce.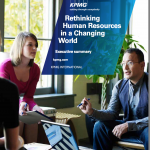 There are a number of ways recruitment agencies can react to this. They can see it as an opportunity to exploit the failure of HR to deliver corporate talent to business and seek to maximize their opportunity to make income by filling that gap. Alternatively they can see it as an opportunity to form closer and more strategic partnerships with businesses, ones that will endure and enable their companies to grow.
In the recent Daily Telegraph article on end-of-year jobs review by Adzuna, a jobs search site- IT employment soars in bumper year for technical jobs the short term skills shortages are headlined to be in Information Technology, Engineering, Oil and Gas, Hi-Tech and Healthcare.
Niche agencies operating in these sectors certainly have a potential opportunity for growth supplying these skills provided they adapt and develop the applicant attraction methods required for this new social media age. This will be one of their key success factors.
Another crucial step will be developing the relationship sales skills required to build the multi-stakeholder relationships with their future clients who are likely to be complex organisations trading globally. Dealing with Resource Managers, HR professionals, Category Procurement Managers and Financial Controllers demand different relationship skills that many of these recruitment agencies do not have. Selling Success find this is a particularly common problem amongst niche recruiters that operate a vertical market model.
The large Managed Service Providers and the Recruitment Process Outsourcers (MSP/RPO), such as Hays, Adecco, Manpower, Alexander Mann and etc., also have a an opportunity as strategic partners provided they too learn the new methods of applicant attraction demanded in this social media age.
A key question for them is, can they develop their existing tactical supplier relationships into true WIN/WIN strategic partnerships that add value.  This however is going to be a huge challenge as once again the pressures on maximisation of shareholder wealth are going to put pressure on these large global agencies to maximise the wealth that they can generate from their candidate and worker databases.
The question is will they agree to sell their premium workers at margins of less than 10% when they can easily secure 20-30% in the open market? Will they develop 'premium brands; with exclusive access to their 'premium workers/candidates' like the supermarkets do? If and when they do this, the next question is how will their global clients react? This will be an interesting dynamic.
In addition the Direct-Sourcing Teams who have the global brands will also have a major part to play. If they can truly leverage their brands to attract and retain staff then they can reduce their organisations dependency on the MSP/RPO suppliers, even dismiss them and perhaps also limit the need to use too many niche agencies. If the Direct-Sourcing Team achieve this their cost to hire can be kept low and their business growth will not be impeded. HR will have found their own in-house solution to the problem and confidence in their team will grow. As the KPMG report says historically they have not however been good at this but I notice that this appears to be shifting.
The challenge however remains and it's the same old perennial problem that recruitment agencies have faced for years but now it is brought into sharper focus. There is no doubt wise HR Executives grappling with the 'Three Core Challenges' highlighted by KPMG need your help but will agencies maximise their profits and share price by signing low margin/fee strategic supplier or PSL agreements that are not rigorously policed. I guess most agency CEO & MD's would be sceptical as they need to see a return for their investment in sophisticated candidate attraction methods.
On the other hand well-managed and structured PSLs with zero leakage will freeze out non-compliant suppliers and force suppliers comply.
The tools and technology all exist to support all the protagonists what however is not in abundant supply is the knowledge, experience and resource management skills to optimise their deployment.
These are exciting times for HR and Recruitment. Their futures lies on a similar path, the question is will they walk it as partners supporting each other or will they be adversaries?